At Family First Household Staffing Agency we believe Black Lives Matter. We understand that our sadness about the atrocity's continuing to happen in what is suppose to be a United Nation, is not enough. Action is the most important thing we can offer. Many may be asking, "How can we do better?" "How can we teach our children about racial healing?" "What does that even look like?" These conversations start with educating ourselves so we can properly share with confidence to the next generation truths and opportunities for racial healing. We have compiled trusted resources for you to utilize as you navigate these important conversations as a family.
Brownicity: Many Hues, One Humanity
In 2016 our Founder, Leigh Aberle was a co-host of iNternational Nanny Training Day in Charlotte, NC. One of the speakers was Lucretia Berry. Lucretia Berry is is an anti-race/ism curriculum specialist, a writer for in(Courage).me, the author of What LIES Between Us Journal & Guide: Fostering First Steps Toward Racial Healing
, a TED Talker, and a Senior Consultant for The American Dream Game. She received her Ph.D. in Education (Curriculum & Instruction) from Iowa State University. She is married to Nathan, and they have three little girls who are the inspiration for Brownicity.
Below you will see Lucretia Berry's Ted Talk, "Don't Keep them in the Dark." Which shares how having conversations with our children about racial healing is a powerful way to change the future.
Brownicity: Many Hues, One Humanity offers both classes and resources for adults and children and are dedicated to advocacy, education, and support for racial healing and antiracism. We encourage to check out their website and go through their study, What Lies Between Us, Fostering First Steps Toward Racial Healing. If you have a group of families, team or company they do offer virtual and in person studies to go through together. You can also sign up for their library of resources for little ones for free. Just click here to sign up for their library of resources. We really enjoyed this podcast, Talking to Young Kids About Race, from their library.
Talking About Race: The Smithsonian
The Smithsonian's goal is to help parents and caregivers help children understand what race is, how it operates in society, and why race in America is important. One resource we really liked from the Smithsonian's library of resources is this article, Children are Not Colorblind: How Young Children Learn Race.
Be the Bridge Youth
Be the Bridge Youth is committed to helping young people — from middle school through college — create brave spaces on their campuses and in their communities where the truth is told, justice is fought for, and reconciliation is possible. Feel free to check out their book recommendations here.
Young Children's Books
Reading with children is a wonderful way to connect with children in real time and creates a healthy space between them and the parent or caregiver to talk about things they notice in the book.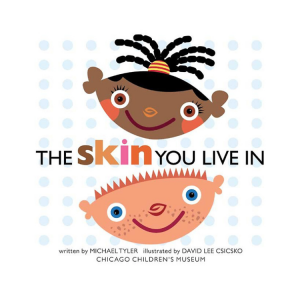 The Skin You Live In: "With the ease and simplicity of a nursery rhyme, this lively story delivers an important message of social acceptance to young readers. Themes associated with child development and social harmony, such as friendship, acceptance, self-esteem, and diversity are promoted in simple and straightforward prose. Vivid illustrations of children's activities for all cultures, such as swimming in the ocean, hugging, catching butterflies, and eating birthday cake are also provided. This delightful picture book offers a wonderful venue through which parents and teachers can discuss important social concepts with their children."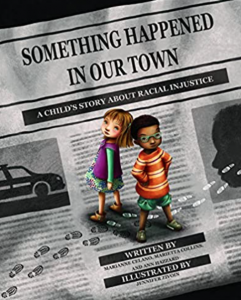 "Something Happened in Our Town follows two families — one White, one Black — as they discuss a police shooting of a Black man in their community. The story aims to answer children's questions about such traumatic events, and to help children identify and counter racial injustice in their own lives. It also includes an extensive Note to Parents and Caregivers with guidelines for discussing race and racism with children, child-friendly definitions, and sample dialogues." This book can be found for free on the American Psychological Association website as a PDF download. Click here to view.
EmbraceRace
As US racial divisions and inequities grow sharper and more painful, the work of envisioning and creating systems of authentic racial inclusion and belonging in the United States remains work in progress. At EmbraceRace we believe that reversing the trend must begin in our homes, schools, and communities with our children's hearts and minds. To view more books and resources check out www.embracerace.com.
In conclusion, our team understands that change will not happen over night, but it is our duty as adults to teach the next generation about racial healing. It is our hope that by creating a safe space to talk about things that might make us uncomfortable, we will create a better future for our children.